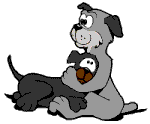 Like everything came...
1990, the theater started: Ingo necessarily wanted a big dog, I not - big dogs was not me geheuer! But a meeting with 2 Newfoundlands and their owner left rethink me, and I was filled from the " bears " with enthusiasm.
1991, we properly bought naively then and uninformed spontaneously our Kira (not FCI).
We had Kira of a Newfoundland-male dog, that a friendly couple possessed, covered 1993 from pure sentimentality... and our first litter was born.
We kept our Amadeus, that gave away itself with all later litters ace " victims " of the puppies wonderfully, from it; it however therefore with educated.
The fever had packed us! After altogether 3 litters (not FCI), a big rethinking started with us, important for the Club (not FCI) was punctual payment of dues, all other didn't matter! Never, there were controls and vague breeding-conditions existed only on the paper. So, we wanted the no longer. We wanted to affiliate a serious club - and that was the DNK then even if Kira allowed to become litters no longer.
Shortly after it we met Heidi Zboralski (Kennel "aus der Mackenmühle") and she finally became in her unique type pioneer for me.
1995, we had arisen " in Heidis eyes " and we received our Quanda-Ronja aus der Mackenmühle.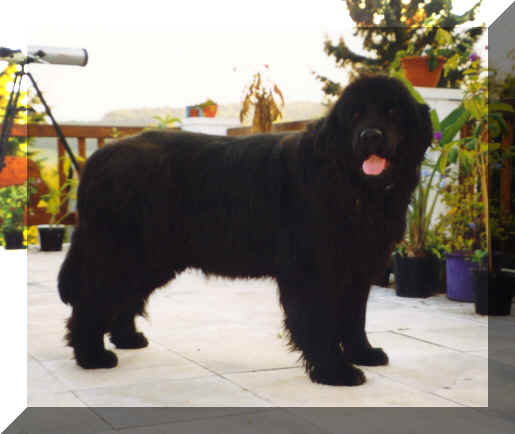 Ronja is a great dog, super in the nature, for us also with defects - like she a Mackenmühler simply has -, achieves good showing-successes, 2x V1S, several V2-4, many V'ses
In October 1996 our kennel "vom Bärbach" was officially registered in the DNK/FCI.
Ronja had an A-Litter and a B-Litter at the end of 1998.
Big hopes that Ronjas good heritage is further-carried we put into her daughter "Beetle Julie vom Bärbach" (called Julie). We liked continue our breeding with her and get the Mackenmühler-Heritage hopefully further.
Julie was X-rayed first on July 2nd 1999 and fortunately she was absolutely clear of HD.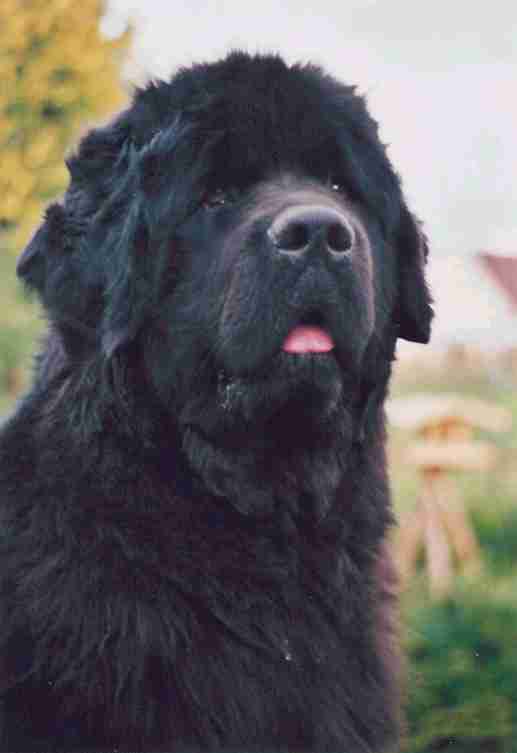 Into May 1999, we have accepted another small Newfy-girl into our family: "Fairweather's Always in Your Mind" (called K.C.), a little Italo-American, born in Switzerland. K.C. is, by the way, Julie's direct cousin. We would like to use her for breeding, too. later on...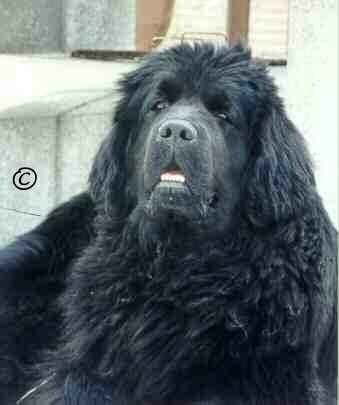 To our puppy-owners we have very good contact and we do hope that we will always be good partners who can be asked for advice when necessary.
Aim our breeding is nature-solid, adaptable, typvolle, bone-strong and healthy puppies, a particular attention lies on HD/ED. Also a good socialization is important us 3 kids (and friends), 2 cats, a few chickens, our 3 big and " still " 2 small bears and 1 Tibet-Mastiff.
With our A-Litter we can be very content, our breeding-goal has been fulfilled with this throw very well. "Anderson vom Bärbach", called Sam, turned 1999 in Muich " Bavarian Juniorwinner " under the Hungarian judge Attila Soos, and has achieved a " V " on his previous showings in the open class in each case. Sam is HD- and Ed-free.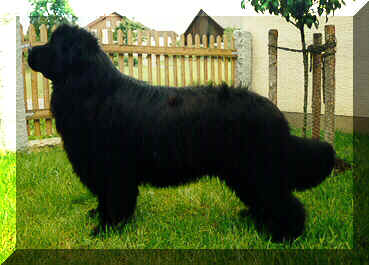 Also his brother "A little Bit Bear vom Bärbach", called Little, is with " excellently " assesses. His X-Ray is HD-fair, ED-free. The X-ray results of the rest of the litter are very good.
Our B-Litter (Julie) is admittedly very young still in order to say much but she develops also after our ideas until now.
I have never regretted that Ingo has become generally accepted at that time, because at life without my " bears ", the whole Newfoundland friends in Germany - and foreign countries, on showings, meetings can introduce me I at all no longer.
We like black Newfoundland dogs best and, as an attentive reader may already have found out. We prefer the "American type".
written July 1999