F-Litter
Date of birth: 24.09.2005
0/3 black
We wish our pups and their owners all the best !
Foreign Exchange vom Bärbach (called "Euro")
DNK 45901
Hips OFA Cystinuria Carrier Heart normal
+ 09.09.2008
Euro lives with a family and 2 children on a farm in Michigan now, surrounds from many meadows, grasses. Society she has with some other Newfs, and her cousin Boo (his father is a half brother to our K.C. and lives in near with friends from us).
Since 4 1/2 years there was the wish to receive a puppy from Julie or K.C. Yet, after this long time of acute and periodic mails I had a good feeling, we have met ourselves and are very similar in our attitudes and opinions, and consequently this wish was granted after this long time.
So sorrowfully was for us this parting, we are happy also for Michelle and her family and wish Euro and them all the best!
All dreams and hopes may become true with this little girl!
Euro and her family moved to North Dakota.
The results (Cystinuria and heart)
Euro has a puppy - it is a little boy: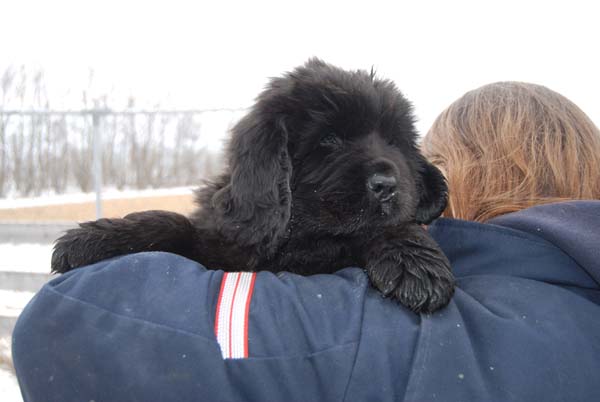 Jackson - 7 weeks - K.C.'s first Grandson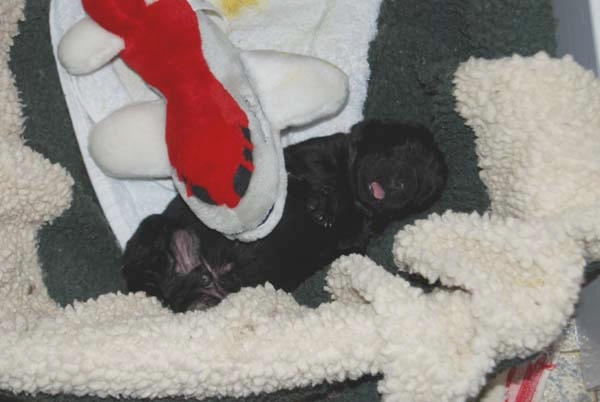 First show (23.02.2007):
Best Female and BOS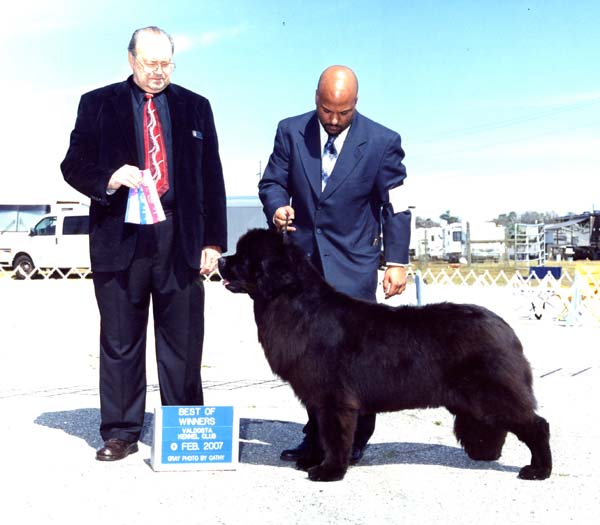 2. show (10./11.03.2007):
BOB (1. day)
BOS (2. day)
Congratulations from me to Euro and Michelle !!!
November 2006 ( 14 month old ):

"Where is the cat?"

April 2006:


I have thought I send a Newf to Michelle - no, it's an Icebear...

There is many snow...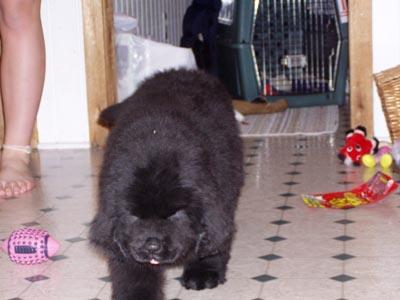 The first picture from Euro in her new home

Felicitá vom Bärbach (called Maggie)
DNK 45902
Maggie lives with a very nice family and their 3 girls in Freiburg. It was heavy also with Maggie to lets go her.
And we hope and wish that she will develop into a lovable and healthy Newf and should bring mainly only joy and luck.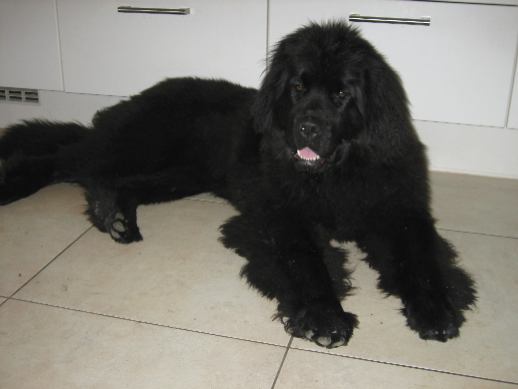 Fiona Stella Gemella vom Bärbach (called Fiona)
DNK 45903
Fiona lives with us and is a connection between K.C. and Julie/Ronja. Her Mom K.C. and also Julie takes care of her very well and educates her. We hope that she still develops good and healthy and we can breed maybe with her later. She is our Newf for the heart, perhaps in breeding later...

After Felicità also Foreign Exchange (Euro) has left us finally.
The last days were full worries and fears because of her long trip over the big water. 07.12. the day was coming and I have driven her to Frankfurt. The people of the Cargo service were however very nice and helpful and have calmed me, already in the advance, and all patiently explains. Nevertheless the parting was very badly for us and I was restless the whole day and the night and had the feeling, I has leaved my little girl. The new owners have immediately written after Euros arrival in the new home and sent the first pictures already and have us very, very relieved. Euro was not afraid and has appeared in the first hours already very assertive.
The last pictures from Euro and Fiona - and the last pictures before Euro flies:
Euro at home

and before her flight


Fiona and Euro
The feared day is arrived and Felicitá was picked up! However from a very nice family and we wish Felicitá, she is now called Maggie, and her new owners of everything imaginable property! The bad time may be past now and Felicità makes all honor for her name (luck)! The first feedbacks sounded very promising, Maggie affiliates her family narrowly. For Felicitá, many people have applied, families and breeders. All were certainly good places, however no one was "good for us". I have always waited for "the" family. I wanted a quite special family with children I can say YES. We have learned to know nice and very suitable people, but nevertheless I have always hesitated, was never right content. Until then this call came and it has simply "done click", I knew, there she will live and will feel well.
With all 3 girls we are content all around, they have developed over the whole 10 weeks very well and have become all lovely and pleasant Newfs - of course with the proportionate puppy-temperament and their antics.
The next parting is in big preparation. Euro is finally left us in the next days and her big trip is begun. This parting becomes certainly severely and the time goes too quickly for me.
The time with the meeting of Kay and K.C., the weeks of the waiting, whether K.C. is pregnant or not, then the wonderful result, that K.C. will be have puppies, the weeks of the preparation and tension, first the easy birth of Faustino and after him the difficulties, the OP section with the 3 girls, the death Faustinos on the next day and the mourning, growing up of the 3 girls, observing and the worry about their development - all that shuts the end now and we must them to go. The time, that had to come and we had always feared. So consciously and intensively I have never had a litter! Single solace is Fiona will live for always with us. She is wished for a long time, a puppy of K.C. and a binding between my loved dogs. Therefore she has received her name: "Fiona Stella Gemella", a symbolic meaning of a twin star. One star is K.C. and the other star is Julie and consequently simultaneously our Ronja. I was allowed to keep Julie 1998 from Ronja, from Julie unfortunately never a child. My big wish always was Julie/Ronja with K.C. in any manner, to be able to unite, and had given up this dream long ago. It began to grow again with Kay and this old dream became be - the connection of my loved dogs, unites in these 3 girls Foreign Exchange, Felicità and Fiona Stella Gemella. Howeverthese weeks with the little girls were with the most important time in my life. Whether finish our breeding or not will show with Fiona will appear later.
The first photos from Felicitá (Maggie) in her new home:


Felicità goes...

Euro

Felicitá
It was a big problem to taken all 3 girls for 1 photo...
Fiona

Felicitá

K.C lookes to her pups

The pups lookes to K.C. and Julie, they plays

Foreign Exchange (Euro)

Felicitá

Fiona

Finally decisions have fallen and finally the 3 girls have their names:
Yellow = Foreign Exchange (called Euro). Euro left us in approximately 2 weeks and then she lives with my long time mail-friend Michelle. Society she has with some other Newfoundlands and her cousin Boo (his father lives with friends of me in my proximity, he is a half-brother from K.C.). Her name cames from the funny deposit-transfer of Dollars to Euro'.
Rosa = Fiona - she will lives with us. Fiona is a name it pleases us.
Blue = Felicitá - for her we seeks another suitable, caring family. Her name means luck.
These picks were not simple at all this time since the puppies are altogether very evenly in their type and natures.
Felicitá is very affectionately and affectionate, she always approaches very kindly everything and everyone and asks for the sqeeze or match.
Fiona is pert, fresh, but of course also affectionate. However she is nosy for adventures, she is a "funny" puppy from the beginning, she first starts everything, that is constantly.
Foreign Exchange often observes at first, keeps back itself and pounces in the middle of the event then. However it is also often, that she asks their sisters for playing. Sometimes I have the impression that she deceives one with her restrained nature.
The plays are often now already very violently and K.C. scold more and more frequently. Also from Julie there is the one or other admonition for the puppies, however she still keeps back herself, this task leaves K.C sooner. and retreat at a quiet position rather. The 3 girls runs, jumps, plays, explores house and garden and has fun at their environment. It is often funny to look at them, as they pulls and pulls at the hairs of K.C. and K.C. stand patiently (if she could she would contort the eyes), and waits, that they pups bores this game. Is it for her too long or is it too wild, she scolds them. Than the 3 girls immediately stop and appease their mommy with muzzle licks.
We have our best experiences to crawl their bellies to interrupt their wild plays. As soon as one pets them the bellies, they drop themselves on the back and solidify downright, enjoys.
The tidiness-education is better as assumed. In the garden they look for more outlying positions for their small and big "businesses", no matter whether they eat, play or sleep. They squeak restlessly in the house and make us alert to their need. We opens the terrace-door then this girl speeds on the meadow and relieves itself in order and come into the house again. We don't notice the squeak or we cannot quickly opens the door, they use mostly (not always!) lay out newspapers or cloths at a position.
This week was the first snow for the pups.
Foreign Exchange (Yellow):

Fiona (Rosa):

Felicitá (Blue):

First adventures with snow...

Julie and Blue

In this week the 3 girls and K.C. go to their veterinarian, received her Chips and Cystinuria-tests and all puppies was pups like a Newf, friendly, lovely and quiet. This was a important adventure in their live.

Rosa: "I am better to go..."

Little sleep and than...


No - I didn't do that...
Time to play:
f
Yellow and Rosa

Blue and the water (first start):


Happy Halloween !!!


Blue and the balls

Rosa and the catch with the plaid



Yellow isn't a brown girl - it's the sun

Blue, Rosa, Yellow

Yellow and Rosa


Rosa and Yellow

Rosa and Yellow with Mummy K.C.

First puppyfood:
Oh Mom, you are sooo big ?

The first trip in the sunshine:


Perfect - Mom is here !
Catching:

Rosa, Yellow and Blue
...what a look from her eyes...

| | |
| --- | --- |
| | Blue and Yellow |
This week the 3 girls opens her eyes and ears. They growes very good and they are so lovely. And the girls makes "wuff". Our friends are coming to a first visit. The girls have their names yet, but which girl and which name is too early.
Many newfly regards from
Foreign Exchange
Fiona
and Felicità
| | |
| --- | --- |
| The daughter Lucia from my friend and "Rosa" | |
| My friend Sabine with "Blue" | |

| | | |
| --- | --- | --- |
| Faustino | He was the first puppy from this litter and died 27 hours later. We are very sad. | |
| Female yellow | She is black, beautiful, lovely and have a little bit white signs on her paws and one toe on her left hindpaw. | |
| Female rosa | She is black, beautiful, lovely and have a little bit white signs on her paws and her chest. | |
| Female blue | She is black, beautiful, lovely and have a little bit white signs on her paws and a small line at her chest and one toe on her right hindpaw. | |

This litter is - for me - a special litter! Not born but they are in my heart and soul!
I hope to take a female for ME - otherwise a male.
I have never takes a puppy from my K.C. This is her last litter and one puppies is me.

It was romantic days with K.C. and Kay in July 2005...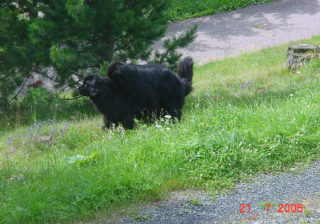 | | |
| --- | --- |
| | Kay |
| | K.C. |
For me is a litter from K.C. and Kay very interesting. The type and health from Kay is excellent - but his father "Thorin aus der Mackenmühle" is a brother from my Ronja and the uncle from my Julie. It was always my plan to make one blood-line from both lines (Julies and K.C.s).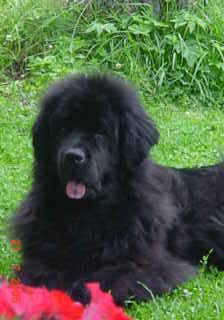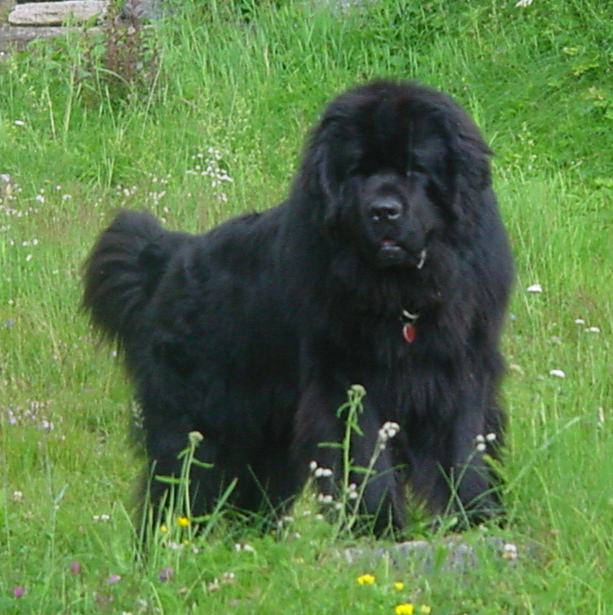 Fairweather's Always In Your Mind and Chatkantarra's Kay for Black Pearls
K.C.s family:


Father: Main Tickle Forbidden Planet

Mother: Any Chance For You

Grandpa: Main Tickle Dark Knight

Grandpa: Twillin Gate Persuader

Grandma: Blue Moon of Sun Bay

Grandma: Pow Wow's First Date of Skimeister
Kays family:


Father: Thorin aus der Mackenmühle

Mother: Mount Cook Quality Street

Grandpa

Grandpa

Grandma

Grandma