A-Litter
30.11.1997 - black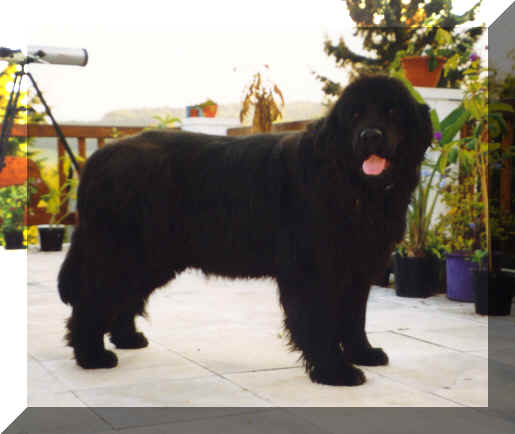 Ma Ronja (Quanda-Ronja aus der Mackenmühle) and Pa Berry (Twillin Gate Quenneth)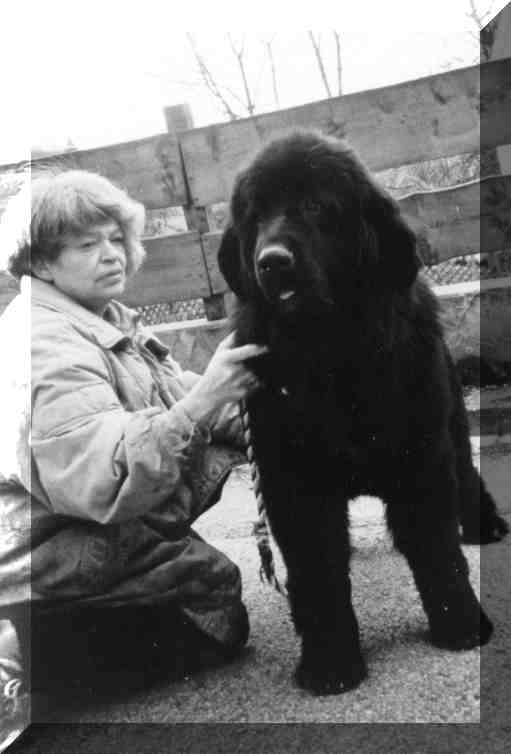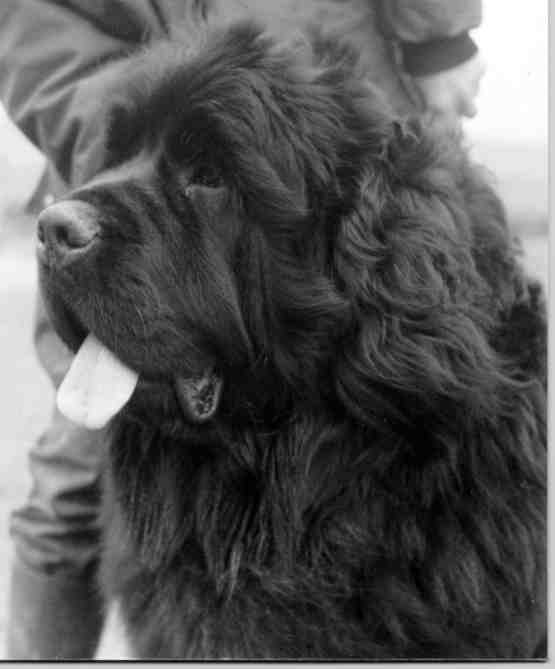 Grandma Kaprice (with Heidi Zboralski) and Grandgrandpa Amorada's Lover Boy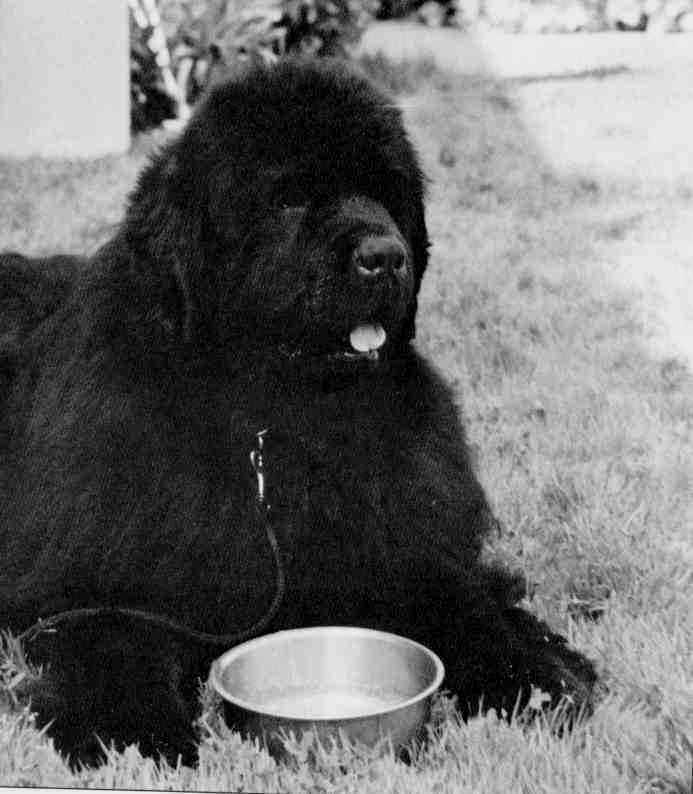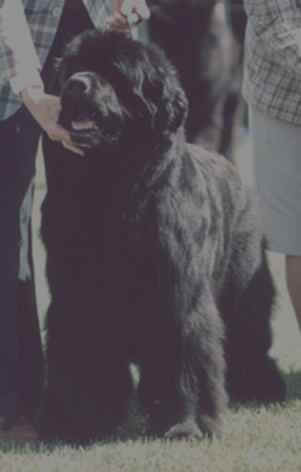 Grandpa Pouch Cove's Favorite Son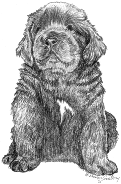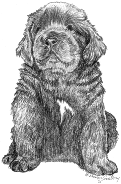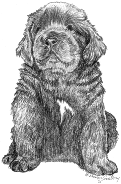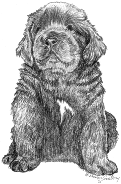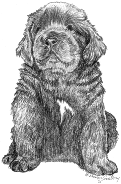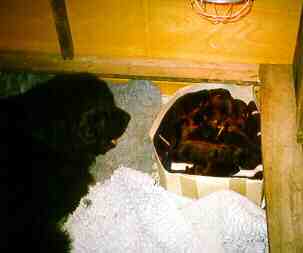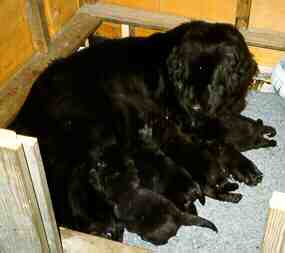 Ready...! 3 weeks old
39771 - A Little Bit Bear vom Bärbach:
HD-fair, ED-free, 72 cm
Little lives with his 3 dog-experienced ownerses near Nördlingen ace waves ace Donauwörth, a wonderful " Bear"-life enjoys there. He has a beautiful, big property to his disposal, and is loved over both ears. " Little is lt our 'black' Sun " so the owners. Little's hobby is the track-quest in the dog-club. He is taken everywhere. He is a very amicable, lovely male dog, that very much, from the external, his father follows, but one cannot deny also our Ronja with him. We are very contentedly with him and his owners - exactly, because he was always our provide-child, he was simply the smallest in the throw and needed a particular attention constantly. We very often see ourselves all and have a good contact to each other.
Little is died 22.07.2003.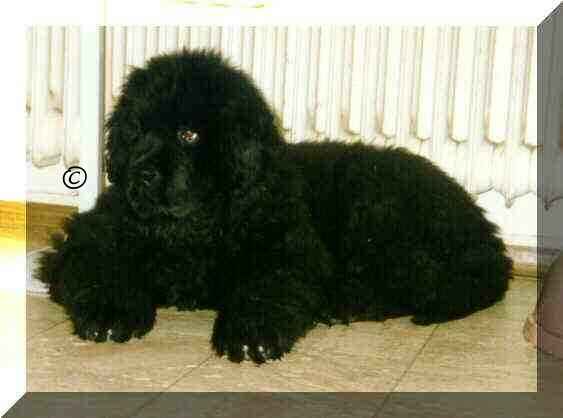 10 weeks old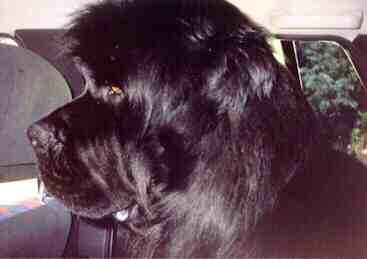 19 month old
39772 - Anderson vom Bärbach (Sam):
HD-free, ED-free, 72 cm
Sam lives near Cham with his family in a small village and has a downright Newfoundland-life there. He is allowed to with to the fishponds drives and enjoys life his typical Newf-Inclinations there freely. He has also received his own bath-pond in the property directly!
Sam is also very unproblematic, very dearly and obedient, and he helps his owner with the field work as well, less with the fishing...!), he goes too in the boat or pulls a car. Sam is a successful result of mother and father.
31. august 2007 with an age of 9 years and 9 month Sam is gone forever... Thanks to Robert and Karin for their love to Sam!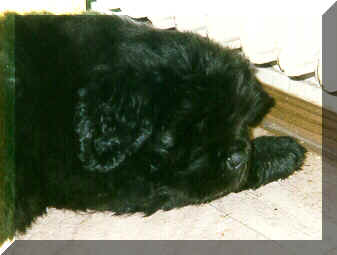 6 weeks old
| | |
| --- | --- |
| 6 month old | Ronja and Sam - 10 month old |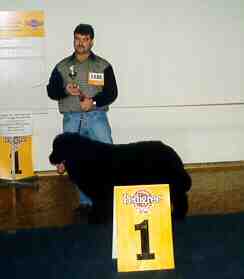 Bavarian Juniorwinner CACIB Munich 1999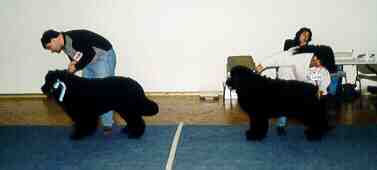 at the left Sam, at the right his Dad Twillin Gate Quenneth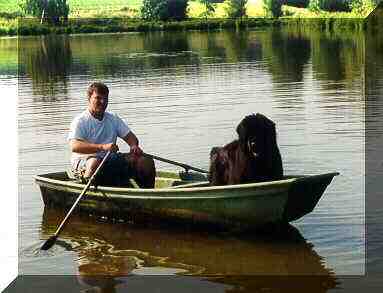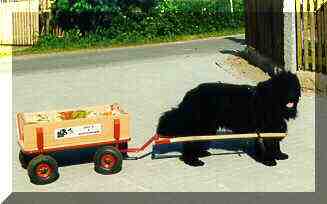 | | |
| --- | --- |
| 17 month old | |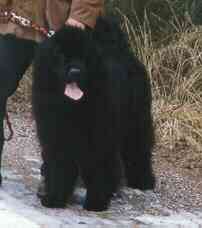 Sam 2 years old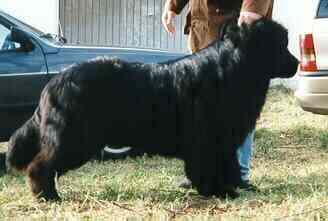 26 month old
39973 - Alibaba vom Bärbach (Ben):
Ben lives directly in Munich with his 2 owners at the Olympic-Park. He is more the more placid from the whole litter, always a little lazier than the others. He divides the swimming-passion (almost) of all Newfoundlands however and has conquered the Olympic-Sea for itself. Ben has much contact to his brother Berry that sees both itself very often. Unfortunately we cannot according to often sea Ben, ace we would like, but we ary happy always, if we from Ben ace waves ace his owners something over him hears.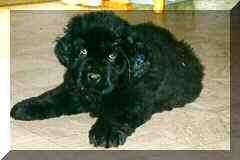 7 weeks old
| | |
| --- | --- |
| 9 month old | |
39774 - Ahoi Berry vom Bärbach:
Berry lives at the Wörthsee with his 5 owners. Accordingly powerful is therefore he. Also Berry indulges his swimming-passion in the Wörthsee with much enthusiasm directly. He is with his brother Ben in Munich on occasion, the two get along pronounced together well. Berry don't according to often sea we unfortunately therefore ace we would like, and always pleases us, if we something of him ace waves ace the owners hears. Berry was always the most conspicuous puppy in the throw at that time, very much his father similar, therefore also the name Ahoi " Berry ".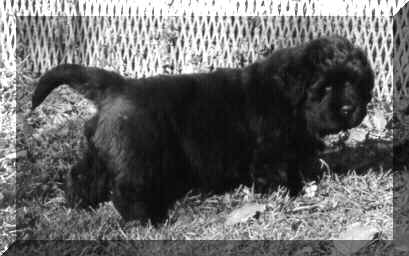 6 weeks old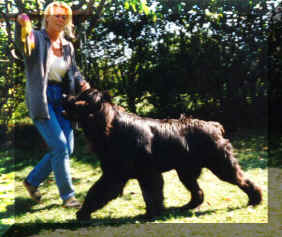 9 month old
39775 - Annie get Your Gun vom Bärbach:
Annie lives in the outskirts of Nuremberg with 4 as well as 6 owners. Annie is very spirited, but also very good. She goes for a walk in one of dogs much and people well visited big park and very compatibly and obedient. Also at home, garden center with much customer and delivery-traffic, there are no problems with her. Annie is a successful result from mother and father. We often see her and have a good contact. Her biggest hobby is soccer games, she even can very well only with itself also!
| | |
| --- | --- |
| 5 weeks old | "Mummy, give me a kiss" |
Neufundländer-Database und noch mehr Infos
Int.-Ch.

DNK 37200-I S HD-A

USA-Ch.

Pouch Cove's Favorite Son

AKC WG231965 S HD-A

Ch. Schooner's Yosef of Newton-ARK

AKC WE355213 S HD-

Souvenir of Pouch Cove

AKC WF96415 S HD-

Int/NL/DK/B/A-Ch.

Joringel Christmas Carol

DKK 02029/88 S HD-A

DK-Ch. Ursula's Happy Hiawatha

DKK 01339/86 S HD-B

Joringel North Country Song

DKK 25805/85 S HD-D

Quanda-Ronja aus der Mackenmühle

DNK 37740 S HD-C

VDH/Yu/Int/D-Ch.

Gammel-Dansk vom Riesrand

DNK 31916 S HD-A

DK-Ch.Black Domes Sir Coxwain

DKK 03387/80 S HD-A

VDH-Ch.Ferry vom Sonnenberg

DNK 30206 S HD-B

Kaprice aus der Mackenmühle

DNK 3606 SrSW HD-A

Amorada's Lover Boy

NHSB 1725513 SrSW HD-B

D/VDH-Ch.Bummi aus der Mackenmühle

DKK 31924 S HD-A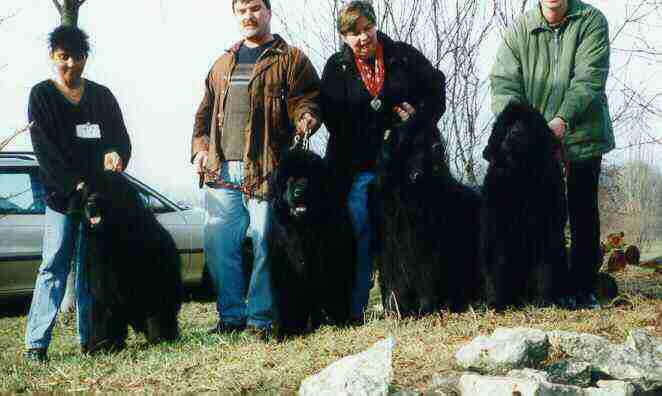 Pa, Sam, Little und Ma Ronja - a little family (06.02.2000)